Cranbow Aluminum Garage Doors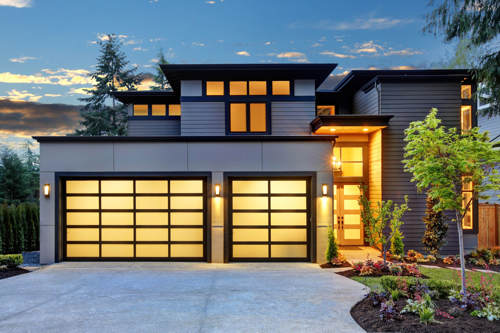 With the Cranbow aluminum garage door catalog, you too can get the neighbors talking about your one-of-a-kind garage door design that brings a beautiful entryway to your home. Elegant designs that perfectly complement your home's visual appeal and combine effortlessly with glass for the most visually pleasing reliable garage doors for all-year-round protection. The elegant designs mirror the clean lines of your home's architecture to give an effective finish.
Low-noise smooth operation aluminum garage doors
With an elegant design and durable materials, Caranbow aluminum garage doors are great for protecting your garage all year round, opening and closing with 38% less noise than the average aluminum garage door. You can now open and close your garage door without waking the neighbors.
Eco-conscious energy-saving aluminum garage doors
With an extremely reliable energy-saving insulation system, your stylish and durable Cranbow aluminum garage doors are built to enhance noise reduction and improve energy efficiency.
Choosing the perfect aluminum Garage door
We have done all the research to make choosing the perfect aluminum garage door that perfectly complements your home as easy as following a few steps:
Select the perfect material to suit your lifestyle.
Select a style that improves the visuals of your curb.
Match the garage door design to your home's architecture
Select the right color to make your garage complementary to your home's interior.
Choose the garage door construction and specific features that perfectly suit your needs.